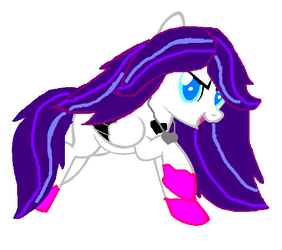 caracteristicas
Edit
su cuero es blanco
sus alas son negras
sus pezuñas son rosadas
tiene una marca negra en forma de corazon
su melena y cola es de color indigo,medio violeta y violeta
sus ojos son celestes
sus pupilas son azul cielo
su raza es pegaso fantasma (pony especial halloween)
tiene un collar de plata de corazon
personalidad
Edit
es muy misteriosa,graciosa,extodivertida,extraordinaria,valiente,audaz y agil
cutie mark
Edit
en construccion...
familiares
Edit
desconocidos
amistades
Edit
forever alon 
habilidades
Edit
aparecer y desaparecer
telenstraportarse
volar velozmente
curiosidades
Edit
es una fantasma pony
su madre y padre no son ponis espciales halloween
Ad blocker interference detected!
Wikia is a free-to-use site that makes money from advertising. We have a modified experience for viewers using ad blockers

Wikia is not accessible if you've made further modifications. Remove the custom ad blocker rule(s) and the page will load as expected.