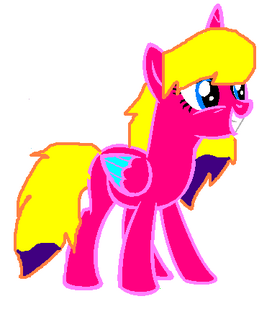 `golden pegasister es mi ponificacion o algo asi,es muy buena amiga.
caracteristicas
Edit
es de cuero fucsia,su melena y cola son de color amarillo e indigo.
sus ojos son azules
curiosidades
Edit
no tiene mucha informacion XD
es mi ponificacion o algo asi
esta inspirado en algunos de mis colores favoritos
Ad blocker interference detected!
Wikia is a free-to-use site that makes money from advertising. We have a modified experience for viewers using ad blockers

Wikia is not accessible if you've made further modifications. Remove the custom ad blocker rule(s) and the page will load as expected.